Planned Giving Opens Many JNF Doors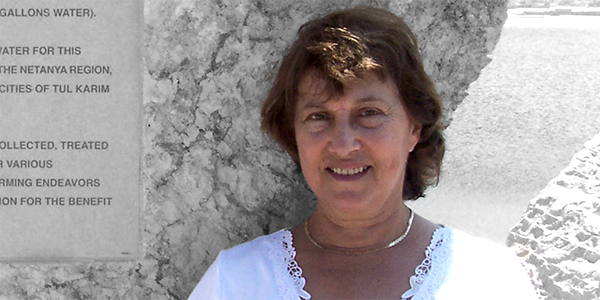 Cynthia Hertz and her husband, Matthew J. Hertz (z"l), got to know JNF through its Planned Giving Department. Ever since, she has become a devotee.
"Matthew believed it was good financial planning to invest in JNF," said Cynthia. "He was always very supportive of its work, JNF practiced efficient fiscal management, and it was a way to be charitable and get an annuity."
The couple established a strong connection with JNF through a variety of Planned Giving projects: gifting a piece of real estate to a Charitable Remainder Trust, setting up a Charitable Remainder Annuity Trust, and a Charitable Gift Annuity. They also established the Dr. Matthew & Cynthia Hertz Charitable Lead Trust, which generates a yearly income to JNF, among several other charities, and funds water projects as per the Hertz's designation.
Born in the Bronx, Cynthia met Matthew while he was in dental school and she was in college. The couple settled in Ardsley, NY and Matthew opened up a dental practice in nearby Riverdale, where he went on to practice with his son, brother-in-law and nephew. Cynthia earned her degree in Library Sciences and Special Education and worked in Jewish education as a Library/Media Specialist for 30 years. The couple moved to Boynton Beach, FL in 2003. Matthew passed away in 2005.
In 2006, through the income generated from the Lead Trust, funding was provided to the East Bahan Reservoir at Emek Hefer. Cynthia has a keen interest in the water situation in the Middle East and sees JNF's water projects as a solution to the problem. Her family's contribution was marked by a pillar at the reservoir which was unveiled for her at a private dedication ceremony.
Always looking for ways to raise JNF's profile, Cynthia recalls sending friends an ad about a recent JNF fundraiser in which she was featured. "A lot of people wrote back saying that they didn't even know that Israel had a water shortage," she said. "I want to help make people more aware about JNF and all the good that it is doing for the land and people in Israel."
A few years ago, Cynthia decided it was time she had a bat mitzvah. Upon completion of the two-year study program she took with 16 other women in her neighborhood, she gave a water certificate to each member of her bat mitzvah class. "I give them all the time," she said, "as a way to commemorate an event or memorialize a loved one. Most people don't know that like tree certificates, you can give water certificates as well."
And two years ago, when she celebrated her bat mitzvah for the first time in her 60s, she asked guests to donate to JNF's water development.
Cynthia became a Sapphire Society member in 2009 and recently attended her first JNF National Conference in Atlanta. "That was such a wonderful experience," she said. "The speakers and presentations were so informative and engaging. I really enjoyed learning about all the projects in which JNF is involved. Everything we are doing is very impressive."