Robert and Shirley Levitt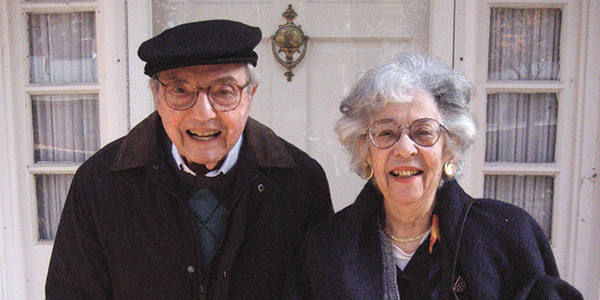 Normally I use this space to write about the financial benefits of contributing to Jewish National Fund. JNF's many Planned Giving opportunities – which include a dynamic Charitable Gift Annuity program, Charitable Remainder Trusts, and Donor Advised Funds – offer for creative solutions and strategies to help you with financial planning or income-producing options that help support the land and people of Israel through JNF's vision and mission. For this first column of 2015, however, I want to demonstrate how a bequest can fulfill a donor's dream of making a difference in Israel.

Shirley and Robert Levitt, z"l, of Greensboro, North Carolina contacted the Planned Giving Department 10 years ago to contribute to a Charitable Gift Annuity. Like many of our donors, they were attracted to JNF's competitive interest rates and a sound investment policy and the idea of supporting Israel through our work.

About a year after Robert died, Shirley called me wanting to do something significant with the remains of her estate when she passed. To Shirley, significant meant not only the amount she wanted to contribute, but her and Robert being remembered as "making a difference."

Around this time, Carmit, a new community conceived by JNF, was being planned as a bedroom community near Be'er Sheva. The vision was that Carmit would attract young, upwardly mobile families to the Negev, yet at the time, the town was nothing more than a vision with sand dunes.

Shirley saw the importance of Carmit and realized someone had to take the first step. She decided to build a synagogue in a town that was not yet created. She reasoned that constructing the synagogue would demonstrate to families who were considering moving there, that the community they envisioned would indeed be developed.

Five years ago Shirley signed an irrevocable pledge for $2.5 million to build the synagogue and three years years ago the project was completed and the Robert and Shirley Levitt Synagogue was dedicated.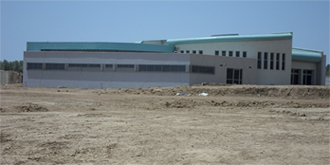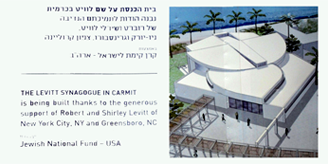 The effect on the progress of Carmit was dramatic. Within a few months of completion, lots were being sold and families were lining up to become a part of what will be a dynamic community.
Shirley passed away in 2014 at the age of 100, six years after Robert. Her vision to make a significant impact was fulfilled. She lived long enough to see pictures of the completed synagogue and witness the dedication through a video presentation. Russell Robinson and I showed her what her commitment had accomplished and presented her a letter from Shimon Peres thanking both her and Robert for their commitment to Israel's future.
Upon Shirley's passing, a Carmit resident sent Shirley and Robert's niece and nephew a letter about the extraordinary gift the couple gave to this community.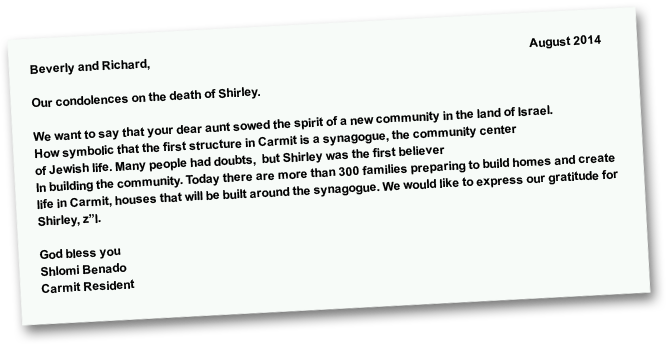 There is not an organization that touches the land of people of Israel in such a profound manner as Jewish National Fund. We should all be proud of our work, commitment, and support.

We can be of valuable assistance in demonstrating how a properly designed charitable gift plan can save income taxes, estate taxes, and even provide for your heirs. For more information on how to plan your estate or other planned giving strategies, please contact one our Planned Giving specialists at 800-562-7526 or at plannedgiving@jnf.org. We look forward to hearing from you.